Published on Apr 1, 2017
BioViva ► http://bioviva-science.com

Liz Parrish is the Founder and CEO of BioViva Sciences USA Inc. BioViva is committed to extending healthy lifespans using gene therapy.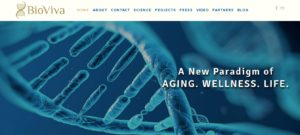 Liz is known as "the woman who wants to genetically engineer you," she is a humanitarian, entrepreneur and innovator and a leading voice for genetic cures. As a strong proponent of progress and education for the advancement of gene therapy, she serves as a motivational speaker to the public at large for the life sciences. She is actively involved in international educational media outreach and sits on the board of the International Longevity Alliance (ILA). She is the founder of BioTrove Investments LLC and the BioTrove Podcasts which is committed to offering a meaningful way for people to learn about and fund research in regenerative medicine. She is also the Secretary of the American Longevity Alliance (ALA) a 501(c)(3) nonprofit trade association that brings together individuals, companies, and organizations who work in advancing the emerging field of cellular & regenerative medicine with the aim to get governments to consider aging a disease.
Parrish received two kinds of injections, which were administered outside the United States: a myostatin inhibitor, which is expected to prevent age-associated muscle loss; and a telomerase gene therapy, which is expected to lengthen telomeres, segments of DNA at the ends of chromosomes whose shortening is associated with aging and degenerative disease.
——–
Facebook: https://www.facebook.com/agingreversed
Tumblr: http://agingreversed.tumblr.com
Twitter: https://twitter.com/Aging_Reversed